A New Theory of Cancer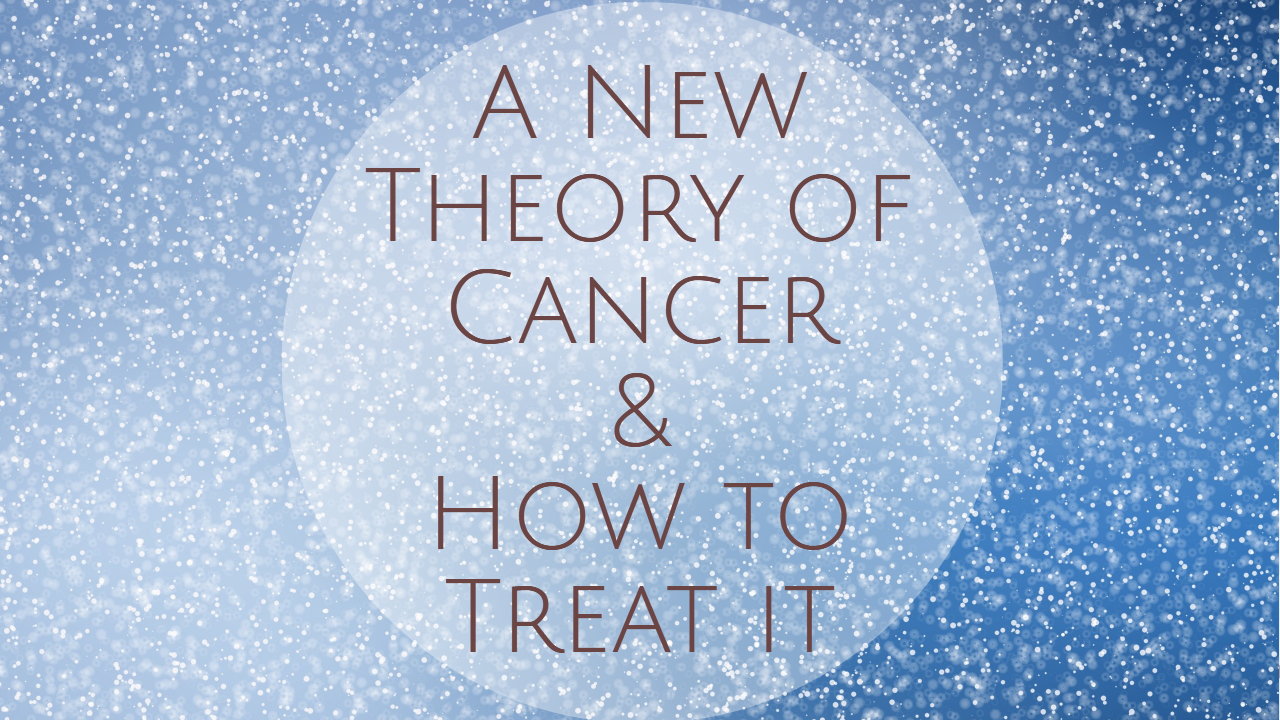 This is very different from the conventional explanation for cancer. The normal way to explain cancer is that environmental factors or a genetic predisposition to a type of cancer causes the cells to mutate. The mutation happens in such a way that they continue to divide and become a tumor mass. A study in South Korea actually demonstrated this idea. Scientists inserted metal plates into the stomachs of rabbits. The rabbits always developed a cancer around the metal plates. If the researchers put holes in the plates then the rabbits didn't develop tumors. This led to the theory that when the plates were a solid mass, the tissues were never able to communicate that the wound had healed. So the body continued to grow the tumor around the chronic irritation.
This new theory of cancer led to this correlating Hypothesis: Most or all tumors form as a final effort to heal a non-healing wound. The body has a number of reactions that rush to heal a wound. There are cells that activate when the body detects an imbalance, a wound, or inflammation, and rush to the site of the problem to begin the healing process. We have since discovered that mesenchymal stem cells are incredibly useful in stimulating the immune system to attack these problems.
Another study further advanced this new theory of cancer and that it is a final effort to heal a wound. In this experiment they showed that transplanted bone marrow cells from another animal grew into stomach cancer cells. This turns the normal idea of cancer being a three-step transformation process, on its head. None of the cancer cells were from the animal itself, they all came from the donor animal as a last-ditch effort to heal the non-healing wound. In this case it was an ulcer. So it's not the local tissue undergoing initiation, promotion, and transformation, as the conventional model of cancer suggests. It appears to be the local tissue being unable to repair. It is believed that a local deficiency in mesenchymal stem cells led to the failure to heal, which led to the release of bone marrow stem cells that proliferated in an attempt to heal the wound, but grew into cancer.
How to Treat Cancer
A new theory of cancer has led to a new way to treat cancer. We can now treat the immune systems deficiencies with mesenchymal stem cells to avoid or heal cancer. Cryovida has taken this research one step further and used stem cells delivered via an IV to treat cancer. With 16 years of stem cell procedures and research under his belt, Dr. Jose Medina Flores is a stem cell expert. He has treated a wide variety of Cancer with stem cells. These mesenchymal stem cells are derived from placenta and Wharton's jelly making them safe for human use. You can now take advantage of these treatments at Dreambody Clinic.
What are Stem Cells?
Dreambody Clinic's placenta and Wharton's Jelly derived stem cells are Adult stem cells.These cells are also immune privileged, meaning the immune system of the recipient does not recognize them as foreign. These cells do not want to become babies unlike embryonic stem cells. Their normal function is to support homeostasis (the healthy status quo) by responding to inflammation. They respond by decreasing inflammation and stimulating regeneration in tissue that needs it. For cancer this means helping the area of inflammation to heal the right way instead of going into panic mode and producing cancer cells. They also help the immune system to rid the body naturally of the cancer cells and tumor cells. This is infinitely better than chemo or radiation therapy.
Again, if you are interested in stem cell cancer treatments simply go here – http://dreambody.clinic/index.php/product-category/cancer/
FOR A FREE CONSULTATION
Joshua Ketner

Dreambody Clinic

MX +52 322 232 1055 US 424 253 0165 Address San Javier Hospital 3rd floor, Nuevo Vallarta