Description
Ozempic Semaglutide for Weight Loss
Ozempic Semaglutide lowers blood sugar and helps people lose weight. Ozempic has been approved by the U.S. Food and Drug Administration. At Dream Body Clinic we have found semaglutide to be a great tool for losing weight fast. It does an amazing job of helping with appetite suppression as it regulates blood sugar levels, which really staves off sugar or food cravings. We do still recommend putting together a solid exercise and diet plan, but semaglutide is an amazing tool for those that need the extra help.
The following is the typical dosaging schedule of Ozempic: It is based on 4 week cycles and it is on a sliding scale.
Weeks 1 – 4: The dosage is set at .25 mg per week.
Weeks 5 – 8 The dosage is set at .5 mg
At the end of 8 weeks our doctor will reassess your situation. If necessary, your dose could possibly go all the way up 1 mg per treatment each week.
To get started please fill out our Intake Form for a free consultation.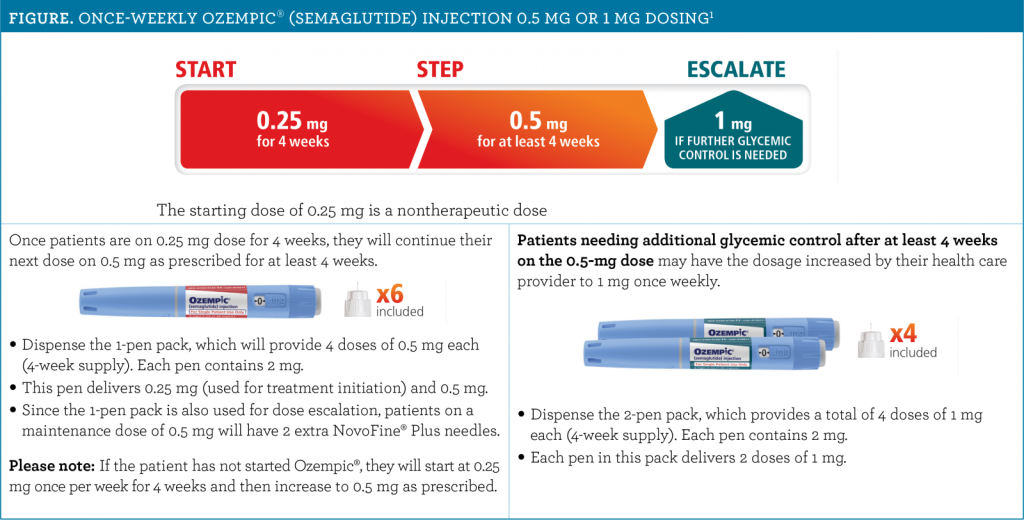 What is Ozempic Semaglutide?
Ozempic is a non-stimulant GLP-1 once-weekly injection prescription medication that improves blood sugar, reduces risk of major cardiovascular events such as heart attack, stroke, or death, as well as helps with weight loss for adults with Type 2 diabetes when combined with diet and exercise.3
How does Ozempic Semaglutide work?
Like other semaglutide medications, Ozempic works with your body's own ability to lower blood sugar and A1C. It imitates the effect of a naturally occurring hormone called GLP-1 (glucagon-like peptide-1) that helps the pancreas produce more insulin when needed, prevents the liver from making and releasing too much sugar, and slows down digestion (improving blood sugar and feelings of satiety).
Who is Ozempic Semaglutide for?
Ozempic is usually prescribed to adults with type 2 diabetes, but it is finding the most success in the world of weight loss. At Dream Body Clinic we can get you semaglutide after reviewing your bloodwork and our doctors determining that you are healthy enough to take it.
There are some patients who should not take Ozempic. Patients who have or whose family has a history of medullary thyroid carcinoma (MTC) or Multiple Endocrine Neoplasia syndrome type 2 (MEN 2) should not take Ozempic. You should also not take Ozempic if you are allergic to any of the ingredients in Ozempic. Speak with your healthcare provider if you have kidney problems, pancreas problems, have a history of diabetic retinopathy (loss of vision), or are breastfeeding, pregnant, or plan to become pregnant.4
What are the side effects of Ozempic Semaglutide?
Like any medication, Ozempic does have a variety of side effects. The most common side effects when taking Ozempic include:
Nausea

Vomiting

Diarrhea

Stomach pain

Constipation
Ozempic does have several potentially serious side effects including pancreatitis, changes in vision, hypoglycemia, kidney problems, serious allergic reaction, and gallbladder problems. Stop using Ozempic and call your healthcare provider if you experience any serious side effects.
Results with Ozempic Semaglutide
For Weight Loss:
A study in 2021 of semaglutide showed that semaglutide medications like Ozempic helped participants lose an average of almost 15% of their body weight compared to the placebo with just 2.4% weight loss.
The study concluded that participants who were overweight or obese taking 2.4 mg of semaglutide once weekly in combination with lifestyle changes such as diet and exercise was associated with sustained, clinically relevant reduction in body weight. 6
For Diabetes:
The American Diabetes Association recommends adults with type 2 diabetes to maintain A1C less than 7%. Most adults taking Ozempic reached an A1C under 7% and maintained it. In two different studies of Ozempic, majority of participants reached an A1C under 7%.
Ozempic is not a weight loss drug, but in the above-mentioned studies it was shown to effectively aide in weight loss when combined with diet and exercise.7
References