Description
Stem Cell Gum Injection Treatment
The stem cell gum injection treatment at Dream Body Clinic is performed by our skilled oral surgeon Dr. Gustavo Covarrubias. The stem cell gum injection treatment is used for many gum related diseases and issues. The most common ailment we treat with the stem cell gum injection treatment is receding gums. Other issues we see are infected implants, implants that are causing nerve pain, gingivitis and other related issues. The stem cell gum injections will help relieve nerve pain, boost the immune system to fight off bacteria or infection and guide cellular regeneration in the mouth. We will go over each of these issues on this page.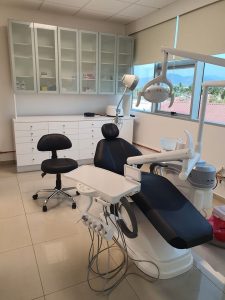 Stem Cell Gum Injection Treatment Procedure
Dr. Gustavo uses 25 million mesenchymal stem cells when doing the stem cell gum injection treatment. He spreads the injections throughout the upper and lower gums. He injects to the upper gums then to the lower gums.
Before any stem cells are applied he swabs the gums with an anesthetic cream to numb the gums. This makes the whole procedure virtually painless.
How Stem Cells help Receding Gums
Stem Cells help receding gums by guiding the cellular regeneration of the tissue. The mesenchymal stem cells send out cytokines which are signalling proteins that guide cells to repair. Receding gums is a very common problem and makes periodontal work very difficult. Many periodontists and oral surgeons have to rely on grafts to complete procedures because of patients with receding gums. We initially became aware that mesenchymal stem cells could help regenerate gums because many patients that had done the Stem Cell IV Treatment reported back that gum restoration was a side effect of treatment. We then decided to consult with Dr. Gustavo and then began experimenting with direct gum injections. Results have been great over the past year and we now offer this as a treatment.
Stem Cell Gum Injection Treatment for Gingivitis
The Stem Cell Gum Injection Treatment for Gingivitis works by boosting the immune system and eliminating inflammation. As plaque builds up and gingivitis forms, inflammation starts to flare up in the gums. By injecting mesenchymal stem cells we are able to first help the immune system to fight off the bacterial biofilms. These bacterial biofilms, better known as dental plaque are what lead to the gum inflammation disease of gingivitis. As we age we have fewer and fewer mesenchymal stem cells to guide the immune system in fighting back this biofilm. The stem cells will help the immune system fight back and fix the underlying cause of the inflammation. Patients with gingivitis must adhere to strict oral hygiene protocols laid out by Dr. Gustavo to achieve complete remission.
Stem Cell Gum Injection Treatment for Nerve Pain
The Stem Cell Gum Injection Treatment for nerve pain works by sending out neurotrophic factors that help regenerate nerves. We often see patients that have had dental implants that did not set right or were not done properly. In these cases inflammation, infection and nerve pain can all be present. The stem cell gum injection treatment can deal with all of these issues. For nerve pain we focus the full 10 million stem cells in close proximity to the pain. Pain reduction typically starts within days and often full nerve pain relief is had within weeks or months.
How to Book the Stem Cell Gum Injection Treatment
You can start by calling (833) 445-9089 for a free consultation or email info@dreambodyclinic.net
Once you know that you want treatment we need you to fill out our Intake Form – https://dreambody.clinic/index.php/intake-form
Then when you have fights and hotel arranged simply fill out our Booking Form – https://ntegzhux.paperform.co/
Dream Body Clinic Experience
This treatment requires you to be in town for at least 4 days. We have partnered with the Vidanta group to provide amazing accomodations at discounted rates. Our Travel Agent partners at GW Travel can provide the following rates for week long stays if booked a few months in advance of treatment.
CHECK OUT OUR GREAT WEEKLY GW RATES on some of our favorite accomodations:
Level 1: Affordable Fun
Studio/Master Room $1,250/week
One Bedroom $1,450.00/week
Level 2: Deluxe Accomodations
Studio/Master Room $1,550.00/week
One Bedroom Villa $1,750.00/week
Two Bedroom Villa $2,250.00/week
Level 3: Luxury Accomodations
Master Room $2,000.00/week
One Bedroom Deluxe Villa $2,500.00/week
Two Bedroom Deluxe Villa $3,000.00/week
Three Bedroom Deluxe Villa $3,250.00/week
Vidanta Nuevo Vallarta offers the ultimate resort vacation. As the biggest of the Vidanta destinations, it has been carefully cultivated to provide a high-end experience full of options: 40 plus restaurants and lounges to try, three golf courses and a golf academy, a shopping plaza, two indulgent spas, beautiful beaches, and countless pools.
It's your vacation, so why not spend it doing the types of things you love to do? At Vidanta Nuevo Vallarta, you'll find a wide variety of activities, from sports tournaments and classes to arts and crafts or poolside trivia, all run by our amazing activities team, the Joy Squad.
With over 40 restaurants and lounges to choose from, Vidanta Nuevo Vallarta gives guests the opportunity to dine however they like. Options range from high-end eateries to casual restaurants to authentic Mexican spots, and even a gourmet market filled with offerings from all over the world. One thing is for sure—an amazing culinary experience is always just a meal away at Vidanta Nuevo Vallarta.
With a host of different pools, an Aqua Park, and a Lazy River, this resort is a paradise for those who love spending their vacation at the pool. Find an array of ways to spend your days with the resort activities, including options for kids, adults, and the whole family.