Description
Intrathecal Stem Cell Injection Treatment
The Intrathecal Stem Cell Injection Treatment is done to get stem cells directly to the spinal fluid and then cerebral fluid.
An intrathecal stem cell Injection treatment is similar to a spinal tap, except that we are not taking spinal fluid out, but putting 50 million mesenchymal stem cells in. This treatment will be part of our new protocol for MS, Parkinson's, Alzheimer's/Dementia, Stroke and Autism. To do this, we have brought on Dr. Torres who is an anesthesiologist.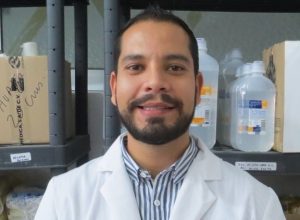 Dr. Jose Salvador Torres Prado graduated med school at the University of Guadalajara and then did his Specialty in Anesthesiology there. He has worked in Spain and Mexico as an anesthesiologist over the past 8 years. Here in Mexico only anesthesiologists are allowed to perform intrathecal injections for safety reasons.
This new treatment will be used in conjunction with the stem cell IV and Nebulized Stem Cell Therapy.
Intrathecal Stem Cell Injection Treatment Process
We start with a full blood analysis the day before treatment
The clinic room is fully sterilized and then the patients back is sterilized with iodine and microdasyn.
Dr. Torres and Nurse Marta prepare the syringe with 50 million mesenchymal stem cells
Dr. Torres injects into the spinal fluid
Side Effects or Risks
The only side effects that have been documented are the following:
Some atients may experience a slight fever for a up to 48 after treatment.
Most patients will have a headache a few hours after treatment. Some patients may experience a headsche for up to 48 hours due to increased pressure in tje cerebral spinal fluid. We provide tramacet to help reduce or eliminate this side effect.
Any injection treatment has a very small risk of infection. We do everything in a sterile environment with sterile equipment to take this risk to almost zero.
Dr. Torres has over 8 years performing intrathecal injections and our lab has over 8 years specializing in Mesenchymal Stem Cell research. See Stem Cell Certification by Clicking Here.
Intrathecal Stem Cell Injection Treatment Studies
There have been a lot of studies done on intrathecal stem cell injection treatments. As you will see below these treatments have been very successful which is why we offer this.
Intrathecal Stem Cell Injection Treatment for MS Studies
Intrathecal Stem Cell Injected Treatment for Alzheimer's Disease Studies
Intrathecal Stem Cell Injected Treatment for Autism Disease Studies
Intrathecal Stem Cell Injected Treatment for Stroke Disease Studies
Intrathecal Stem Cell Injected Treatment for Parkinson's Disease Studies