Description
Rheumatoid Arthritis Stem Cell Treatment
Dream Body Clinic can treat Rheumatoid Arthritis with mesenchymal stem cells. Dreambody clinic has been treating people with Rheumatoid Arthritis for over 2 years with tremendous success. For best results from the Rheumatoid Arthritis stem cell treatment the stem cells are administered via an IV of 300 million stem cells and 25 million stem cells are injected into the most effected joints. This package includes the 300 Million IV and 25 Million Stem Cells injected into both wrists. We also do an MRI of each wrist. We can adjust this part of the treatment depending on the patient. For example if the knees are the primary area of pain we will do MRI's and administer the stem cells to the knees instead of wrists. The patient below had pain in many areas so our head physician put together a more comprehensive package that treated multiple areas of pain.
Rheumatoid Arthritis Stem Cell Treatment Studies
See the incredible story of Steve's recovery here – https://www.facebook.com/dreambodyclinic/posts/2812227242337709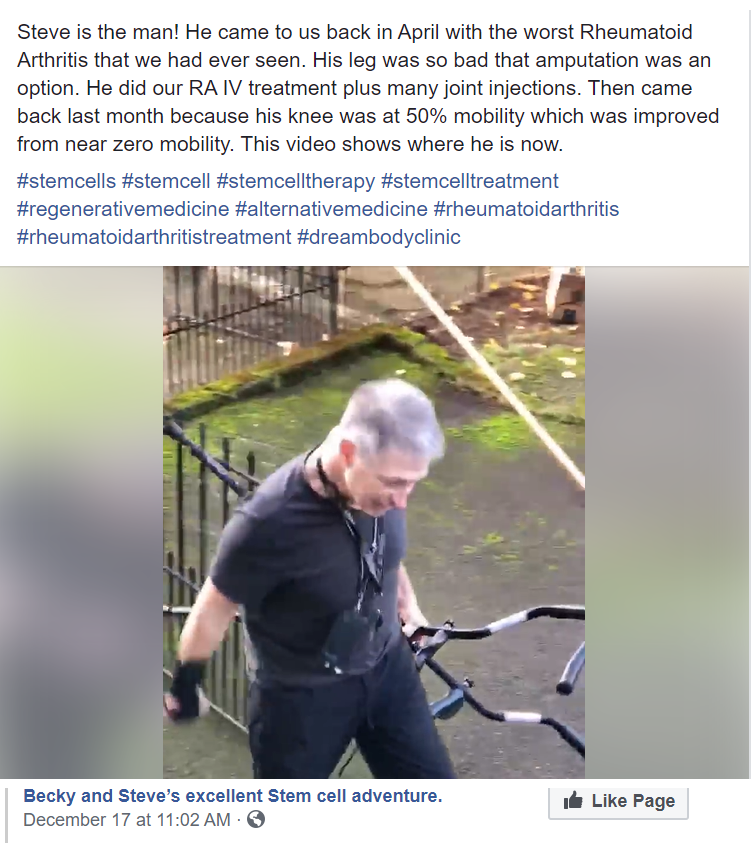 Becky and Steve's excellent Stem cell adventure.
Steve's story..
As I'm doing dishes at home, I realized that it was just about a year ago that we were trying to decide between fusing Steve's left leg or amputation. Every ortho doc/specialist that saw Steve said it was the worst knee they had ever seen. A replacement was not even an option. Not even a hinged replacement, as his leg bones were deteriorating as well. At this time, it had been almost 8 months since he could no longer stand at work, We were starting to lose hope that he would ever return. The last few specialists we saw said Steve would never walk again without one of these surgeries.
I didn't know it at the time but Steve knew his right leg was following right behind the left. He was afraid to tell as I was looking for a glimmer of hope. We then decided to schedule his leg fusion surgery. The surgery was set for January 2.
We kept the surgery date until the weekend before. If for some reason the fuse didn't take, he would now need a full leg amputation as he would have metal fused in his whole leg bone. There were truly no good options, but we cancelled the Fuse surgery and we asked for the surgeon to call us to begin the process for amputation above the knee.
At this point, Steve's knee was so painful that he would scream in pain, if it was touched.
For a couple weeks, no call. We took it as a sign. Steve also expressed to me his fear that his "good leg" would end up in the same as the other. At that point I spent endless hours online researching anything that would give us any other options.
Stem cells kept coming up in the search results. I disregarded them for a long time, as we had heard from multiple docs that they would not help him as there was no cartilage left in his knee.
Well, my curiosity got the best of me so I clicked on stem cell therapy. It couldn't hurt at this point. We also knew nothing about stem cells, so everything we read was eye opening. There was a clinic in Lake Oswego that had a free seminar on a Friday for a couple hours, for people that were looking for more info. I got Mychal to cover me at WOM and I was able to take him to this seminar.
At this point, Steve could not even get into my jeep without me helping him in and out. He had been completely wheelchair bound for months now.
His main issues were
#1 nerve pain. shooting pain in his legs/shoulders and wrists. He compared it to being stabbed with a red hot knife. His knees were also very painful.
#2 Having zero mobility. His left knee had no bone structure or cartilage left. The x-rays looked nothing like a knee. His right knee was close behind, it was a grade 4, bone on bone. Steve could not go anywhere on his own at this point.
#3 He had multiple detached biceps, both rotator cuffs torn, and his right wrist was still healing from an infection he had 8 mo. earlier, which ended up eating up his wrist bones.
#4 No doctor or specialist could pin-point what the heck happened to Steve,
He was finally diagnosed with severe destructive arthritis. Doctors were truly stumped before they made this diagnosis They did agree that Steve had a bunch of connective tissue problems. Doctors had ran close to 100 different blood panels, MRI's, bone scans, xrays, biopsies.
Steve's bones and joints were dissolving and nobody knew why. Steve went from walking and working to wheelchair bound in less than a year.
So we signed up to have a consult the following Monday. We still knew nothing more than what we had heard at the seminar. The doc did mention that Mexico was like the wild wild west of stem cells. We thought nothing of it at the time.
We ended up getting 16,000 stem cells in Lake Oswego.
The first thing that happened, even within the first week, is Steve had no nerve pain. He no longer needed Oxycontin and Weed gummies just to get a few hours of sleep. A few weeks later A dog could sit on his knee, and he no longer had the intense pain there. He continued to slowly improve over the next few weeks. Since he had no cartilage in his knee, we did not expect his knee to rebuild itself, but the intense pain had subsided. This felt like a miracle.
We also stopped eating gluten as of January as it causes inflammation.
After all this, I joined Stem Cell groups on FB for more info. I became obsessed and enthralled with Stem Cells and results. We quickly found out that it is illegal to administer live umbilical stem cells in the us. The cells in the US were frozen, then thawed and administered. The cells were then hoped to replicate over time. Acupuncture is recommended weekly.
Once we found out the live stem cell possibilities outside the US, I got Steve an expedited passport and booked a trip to Dream Body Clinic in Puerto Vallarta..
Steve immediately felt comfortable, when he talked to Josh on the phone. (Josh moved to PV from Seattle 10 years ago, after seeing what Stem Cells were capable of, and taking in to account the FDA's restrictions of live stem cells.)
At this point it had been almost 3 months since stem cell treatment in Lake Oswego. The main improvements were the nerve pain, and that Steve's biceps were now attached and his rotator cuffs had less pain.
Steve had just under a billion stem cells administered on April 23, 2018. He had 300 million intravenously, and many different injections into multiple joints. including knees, wrists, shoulders.
"That amount is hard to fathom after we paid almost 20K for 16,000 in Oregon.
For the Billion live cells (not frozen) it was a few thousand cheaper even including the flight/hotel. Steve was in Puerto Vallarta for almost 4 days. In this time he had multiple MRI's, complete blood panels and consults with the Doctor at Dreambody Clinic. Steve recieved 62,000 times the amount of live stem cells from DreamBody Clinic.
Stem cells are supposed to multiply over time and start healing. When Steve arrived home- (He went by himself, but had assistance with an attendant and wheelchair for the trip) He already was feeling results. Before Mexico, he could not get out of a sitting position easily. He showed me how easy it was to pull himself up.
Over the next few weeks, his energy level increased drastically. I would find him in the basement or the top floor of our house cleaning when I would come home from work. It was truly amazing. Something was going on inside his knees as going up or down the stairs was not an option, even with crutches.
Later in the summer, Steve became able to hang from his ankles freely from the inversion table. I was amazed.
He was gaining muscle again, and was beginning to look like himself. His energy kept improving. He can now walk short distances without an aid. (see video)
Steve was diagnosed with Left Ventricle Heart Failure in 2017, he has been on so many different heart medications for this, and required to daily report his weight and blood pressure in an online journal. A few months ago, he was taken off the heart failure program after an echo showed much improved function.
There are so many exciting things I have noticed over the year, sometimes I forget how awful last year was. He is still far from normal, but I appreciate this past year over 2018 so much.
Many of you know this story, but it just struck me how much a year can change things. Praying that 2020 brings even more healing and hope. Very thankful for credit cards as well.
Will this cure my Rheumatoid Arthritis?
We are always hesitant to say cure, but in most cases the patient no longer has the symptoms of Rheumatoid Arthritis after 6 months. The treatment success has a lot to do with how advanced your Rheumatoid Arthritis is and how long you have had it. When the disease is caught early the chances of success on the first treatment are very high. While for more advanced cases it may require repeat treatments to eliminate the symptoms. If repeat treatment is needed then we recommend that it be administered 6 months after the first treatment. In the rare case that the second treatment does not fully eliminate symptoms a third treatment can be needed and should be administered 6 months after the second treatment.
Mesenchymal Stem Cells for Rheumatoid Arthritis Studies
They consistently work for animals with RA – https://www.ncbi.nlm.nih.gov/pubmed/31501076
Clinical Data is starting to roll in showing MSCs benefit RA – https://www.ncbi.nlm.nih.gov/pubmed/27941390
Modeling Mesenchymal Stem Cells in RA and OA
Human Umbilical Mesenchymal Stem Cells Display Therapeutic Potential in Rheumatoid Arthritis by Regulating Interactions Between Immunity and Gut Microbiota via the Aryl Hydrocarbon Receptor
Therapeutic Potential of Mesenchymal Stromal Stem Cells
How do Mesenchymal Stem Cells treat my Rheumatoid Arthritis?
Mesenchymal Stem cells treat Rheumatoid Arthritis by stimulating the body to regenerate itself. Their magic is not in their ability to become or replace different tissues or cells, but in their production of trophic factors, bioactive molecules produced in response to the environment in which the cells are in. These secreted chemicals aid in repairing tissue and the recruitment of new blood vessels to support nutrient flow to the area and decrease inflammation. By repairing tissue, recruiting new blood vessels and increased nutrient flow your body will start to behave the way it did in your early 20's. This means your hands and feet start to heal. So it is not the cells themselves that work the magic. It is what the cells secrete that has such anti-aging and medicinal potential.
Immune Response Issues Causing Rheumatoid Arthritis
Your body is amazing at regenerating and it wants to repair your hands and feet The problem is that damage and scarring occur in the hands and feet from the T cells start attacking the area of inflammation. When the immune system doesn't work exactly like it should from a lack of stem cells. So we get these stem cells into your hands and feet and they allow the T Cells to protect the area of inflammation, but without attacking the area. The mesenchymal stem cells secretions influence the immune system to eliminate some of the scarring which then allows the hands and feet to repair.
More info on the Mesenchymal Stem Cell Secretions
Mesenchymal Stem cells (MSCs) secrete a wide range of cellular products, molecules, exosomes (part of the genome thats inside RNA. Progams protein coding) and microvesicles ( Microvesicles play a role in intercellular communication and can transport mRNA, miRNA, and proteins between cells.) That act in different ways to stimulate the body's healing process.
Growth Factors Aid in Rheumatoid Arthritis
Growth factors (A growth factor is a naturally occurring substance capable of stimulating cellular growth, proliferation, healing, and cellular differentiation. Usually it is a protein or a steroid hormone. Growth factors are important for regulating a variety of cellular processes.
Cytokines (Cytokines are a broad and loose category of small proteins that are important in cell signaling. Their release has an effect on the behavior of cells around them. It can be said that cytokines are involved in autocrine signaling, paracrine signalingand endocrine signaling as immunomodulating agents.) , hormones, and cellular mitochondria and RNA are among the secreted bioactive molecules and cellular material that characterize the wide range of activities carried out by mesenchymal stem cells. When considering that the main function of stem cells lies in their secretome. This is the bioactive molecules they secrete. This means they don't have the ability to differentiate into new tissue, but instead allow your own body to heal itself properly. Isolating these trophic factors separate from the cells offers an intriguing mode of treatment.
Step by Step Rheumatoid Arthritis Stem Cell Treatment
An MRI of the wrists is conducted and a full blood panel
The 25 million Stem Cells are injected into your wrists (Or other joint depending on issues)
300 million mesenchymal stem cell IV administered (Takes an hour)
Side Effects or Risks
The only side effects that have been documented are the following:
1 in 100 people will experience a slight fever for a few hours after treatment
Our lab has over 8 years specializing in Mesenchymal Stem Cell research. Our lab has done a maximum of 1 billion stem cells via IV with no negative side effects. See Stem Cell Certification by Clicking Here.
Can HGH be combined with Stem Cell Therapies?
HGH + Stem Cell Rheumatoid Arthritis Treatment = Pain Free Hands and Feet!
The stem cells act like the foreman on a construction site by directing the immune cells to areas of inflammation. They then coordinate everything to avoid scarring and repair tissue. Your body is amazing at healing itself, it just needs these stem cells to direct traffic. The HGH converts to IGF-1 which is used to repair tissue. With the stem cells directing repair and giving the IGF-1 a clear path to fix things you heal in record time. HGH is well known for aiding in hair restoration and even recoloration. We have had many HGH clients report that their gray hair changed back to brown or black.
You get that vigor and energy back. You start moving and feeling like a 20 year old version of yourself again. Your skin and facial appearance improves dramatically. You heal muscles faster which leads to great strength gains. It is pretty much the perfect combo to live as long as possible and feel the best. You can also get HGH from dreambody.clinic, just check out Norditropin HGH Package, Genotropin HGH or Humatrope HGH Package.
Rheumatoid Arthritis Stem Cell Treatment Payment Options
For all stem cell procedures we accept Visa, Mastercard, American Express, Cash or Crypto Currency at our DBC Medical Center location in Bucerias, Mexico.
To get started please email us at info@dreambodyclinic.net or call (833) 445-9089 for a free consultation.